FPA NorCal 2023
May 30-31, 2023
7:30am PT
The Palace Hotel
Location: San Francisco, California
When: May 30-31
Stop by and we will be there to answer your questions about Flourish!
FPA NorCal and Flourish are separate and unaffiliated firms.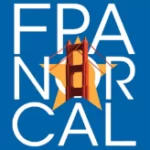 About FPA NorCal 2023:
"The FPA NorCal Conference is the most established, advanced-level conference that provides the opportunity to interact with all parts of our community and profession. We offer an invaluable educational and networking event year after year."
Let us know you'll be there.