Letter from Flourish CEO, Max Lane:
Mid-year review

June 29, 2023
Estimated reading time: 4 minutes
Dear Advisors,
At Flourish, we're on a mission to create a future where advisors are at the center of clients' entire financial lives, no longer restricted to just the portfolio.
Since my letter in January, Flourish has worked to be responsive to client needs in an ever-changing financial landscape. As we approach the halfway point of 2023 and welcome the warmth of summer, I wanted to share how Flourish has helped you and your clients and give a preview of what's coming next.


Adding value in uncertain times
Amidst the backdrop of record inflation, war in Ukraine, bank uncertainty, debt ceiling brinksmanship, and recession concerns, you have leveraged Flourish Cash1 to offer clients a safe place for their cash and access to one of the highest rates in the country. Your efforts have earned clients a collective total of approximately $34MM in interest YTD all while maximizing FDIC insurance for their reserve cash.2 We are seeing firms of all sizes uncover tens, if not hundreds, of millions in cash reserves sitting outside of their purview. Using Flourish Cash to pull these assets into your orbit is a powerful way to strengthen financial plans and deepen client relationships.
Thanks to your partnership, we've been able to deliver tremendous value to your clients. Below are a few data points from Flourish Cash highlighting that value: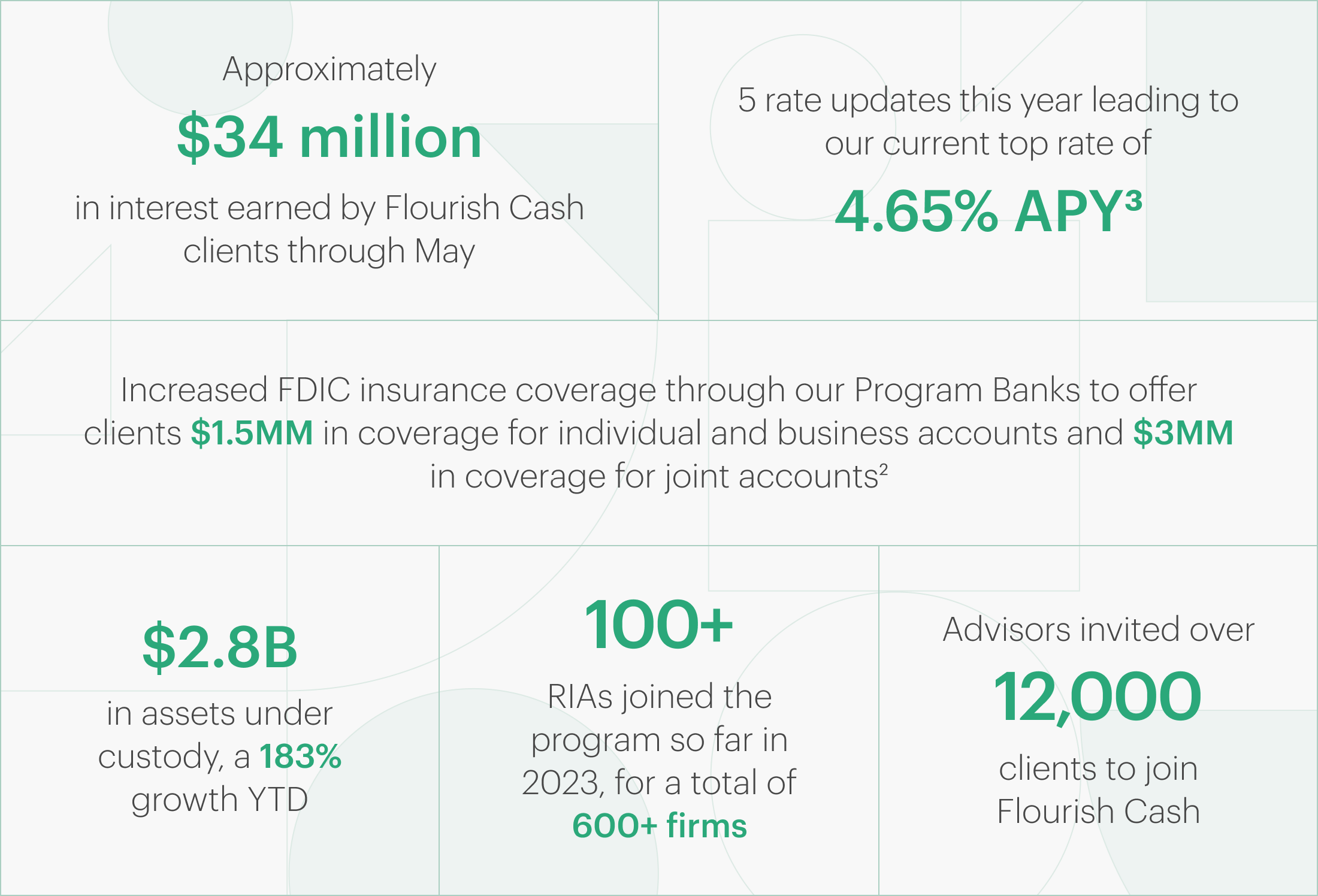 The resiliency of the Flourish Cash program
In March, we saw the largest bank failures in the US since the financial crisis of 2008, including Signature Bank, a former Program Bank of Flourish Cash. These events demonstrated:
Flourish Cash worked as designed and protected client assets


Our bank network and risk procedures ensured client assets at Signature Bank were 100% FDIC insured and that clients maintained full access to their funds at all times

FDIC insurance is a powerful form of protection for depositors


Since inception, not a single penny of FDIC-insured money has ever been lost.4 In this most recent period, the FDIC further demonstrated its ability to quickly provide protection to depositors.
Together, we ensured clients' hard-earned wealth was protected and accessible in these challenging times. In the coming months, we plan to significantly increase the FDIC insurance coverage in Flourish Cash to deliver even more protection for your wealthiest clients.


Momentum builds in crypto markets
Despite increased regulatory scrutiny, bitcoin and ether have had tremendous starts to the year with YTD gains at 81% and 52% respectively.5 With the launch of Recurring Buys for Flourish Crypto,6 you and your clients can now seamlessly execute dollar-cost averaging strategies to gradually build positions in this emerging asset class. Taking into account that 83% of millennial millionaires own crypto,7 I believe having an advisor-centric crypto solution is an essential tool to engage your next generation of clients and ensure your firm is well positioned for the future.


Forging ahead
Looking to the second half of 2023, we plan to meaningfully increase FDIC insurance and deliver competitive rates. Your valuable feedback has helped define our roadmap and we will continue to improve the advisor and end-client experiences to make Flourish Cash the ideal held-away cash management solution for all RIA clients. Your feedback is always welcome, please feel free to reach out anytime.
Thank you for your partnership, and I wish you all a wonderful summer and a successful second half of 2023.

Max Lane
CEO, Flourish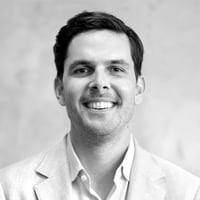 Interested in learning more about Flourish Cash?