September 2022:
FOMC Summary
By: the Flourish Treasury Operations Team
September 23, 2022
A look at recent rate change activity and a preview of what's to come.
Earlier this week, the FOMC (the Federal Open Market Committee), a committee within the Fed (the Federal Reserve System), met to set monetary policy for the United States. In the face of the highest levels of inflation seen since the 1980s, Chair Jerome Powell and his colleagues at the Fed remain committed to an aggressive interest rate strategy, hiking the benchmark Fed Funds Target ("FFT") rate by 0.75% for the third straight FOMC meeting.1 With this increase, FFT now sits at 3.00-3.25%, the highest levels since January 2008.
The Fed's latest forecasts project year-end rates of 4.4%, which would entail additional rate hikes this year. The CME FedWatch tool,2 which uses futures trading to predict future rate increases, similarly predicts a 0.75% rate hike in November and a 0.50% rate hike in December, which would result in a year-end FFT range of 4.25-4.50%.
Looking forward, the Fed's so-called "dot-plot," which the Fed publishes to reflect individual FOMC participants's outlook for interest rates, predicts further rate increases next year, with rates beginning to decline in 2024 but still remaining vastly higher than rates have been over the past decade.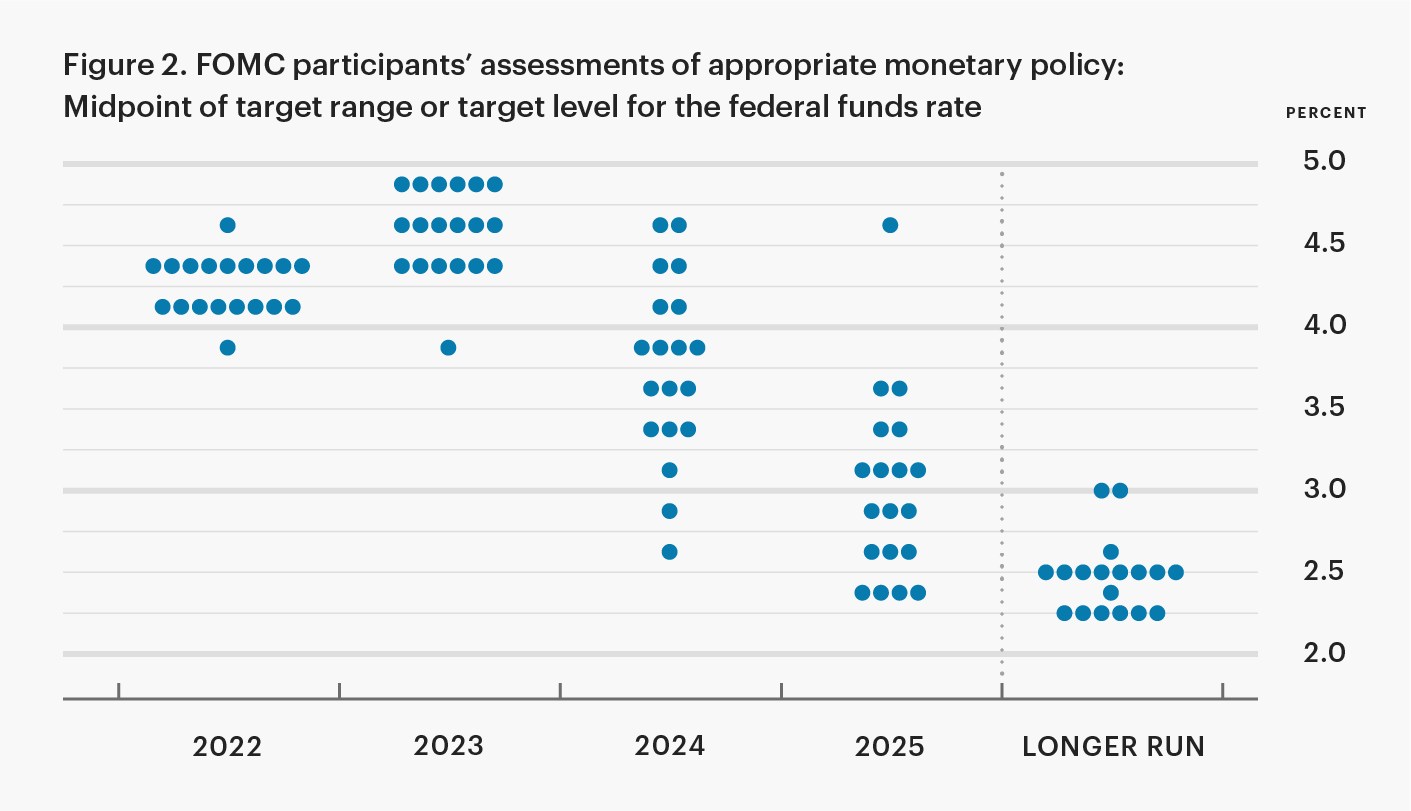 How does Fed rate policy impact the economy?
The Effective Federal Funds Rate (EFFR) is the rate charged by banks when lending reserves in their Fed account to other banks. EFFR historically falls in the FFT range established by the Fed, with the exact rate determined by market activity.
EFFR is transmitted to all corners of financial markets by virtue of banks' role as intermediaries of credit, and is frequently used as a benchmark on loans, deposits, and pricing of other financial products. As EFFR rises, common economic thought predicts that business activity will slow, as businesses and consumers forgo taking out new loans, given the higher rate of return required to service their debts and make profits. Investments in risk assets, such as stocks, face similar hurdles, as the yields on less risky investment options (e.g., Treasuries, CDs) become more attractive.
The Fed hopes that this decrease in economic activity will result in less spending, less demand, and lower prices, bringing inflation back to its target level of 2%. With that said, the future remains highly uncertain, particularly as many non-economic factors—ranging from the Russia-Ukraine War's impact on energy prices to supply-chain impacts of COVID—continue to disrupt the economy.
Fed rate policy and Flourish Cash
At Flourish, we closely monitor actions of the Fed, along with other economic data that may influence the Fed's decision making. The vast majority of the agreements we have with our Program Banks are pegged to floating rates, whether rates set directly by the Fed (such as FFT) or rates determined by market dynamics (such as EFFR). As such, Flourish Cash1 is well-positioned for this rising rate environment, as we expect to increase the Flourish Cash rate following Fed rate increases.
With benchmark rates now sitting at the highest levels since the launch of Flourish Cash in 2018—and expected to remain elevated for years to come—we are excited to announce our next rate increase early next week, with further increases expected this year.
Interested in learning more about Flourish Crypto?