Recurring buys launch expands opportunity for Flourish Crypto clients

May 16, 2023
Estimated reading time: 5 minutes
Flourish Crypto1 is expanding with the latest launch that brings recurring buys to the platform. Clients can now schedule repeat purchases of bitcoin and ether at a fixed dollar amount and frequency through the Flourish Crypto platform. Built in response to customer requests, recurring buys reinforces the aim of Flourish to provide RIAs and their clients with access to innovative products and holistic planning.
Driving development
Following the launch, Flourish has focused on adding new features and expanding the opportunity for investors to dive further into crypto in response to client and RIA requests. "Advisors have clients who would like to dip their toe in the water with crypto, but don't know when or how much to buy," explained Flourish CEO Max Lane. "Recurring buys helps them get started with small amounts at a time to become comfortable with the asset class, see how it moves, and gradually build a position."

In addition, the Flourish product team recognized that users were already doing this manually within the platform. Creating the ability to schedule recurring buys within the platform makes it easier for clients to automate investing. "You can set it and forget it. Clients and advisors choose the frequency, dollar amounts, and cryptocurrency they want to own and the system does the rest," said Lane.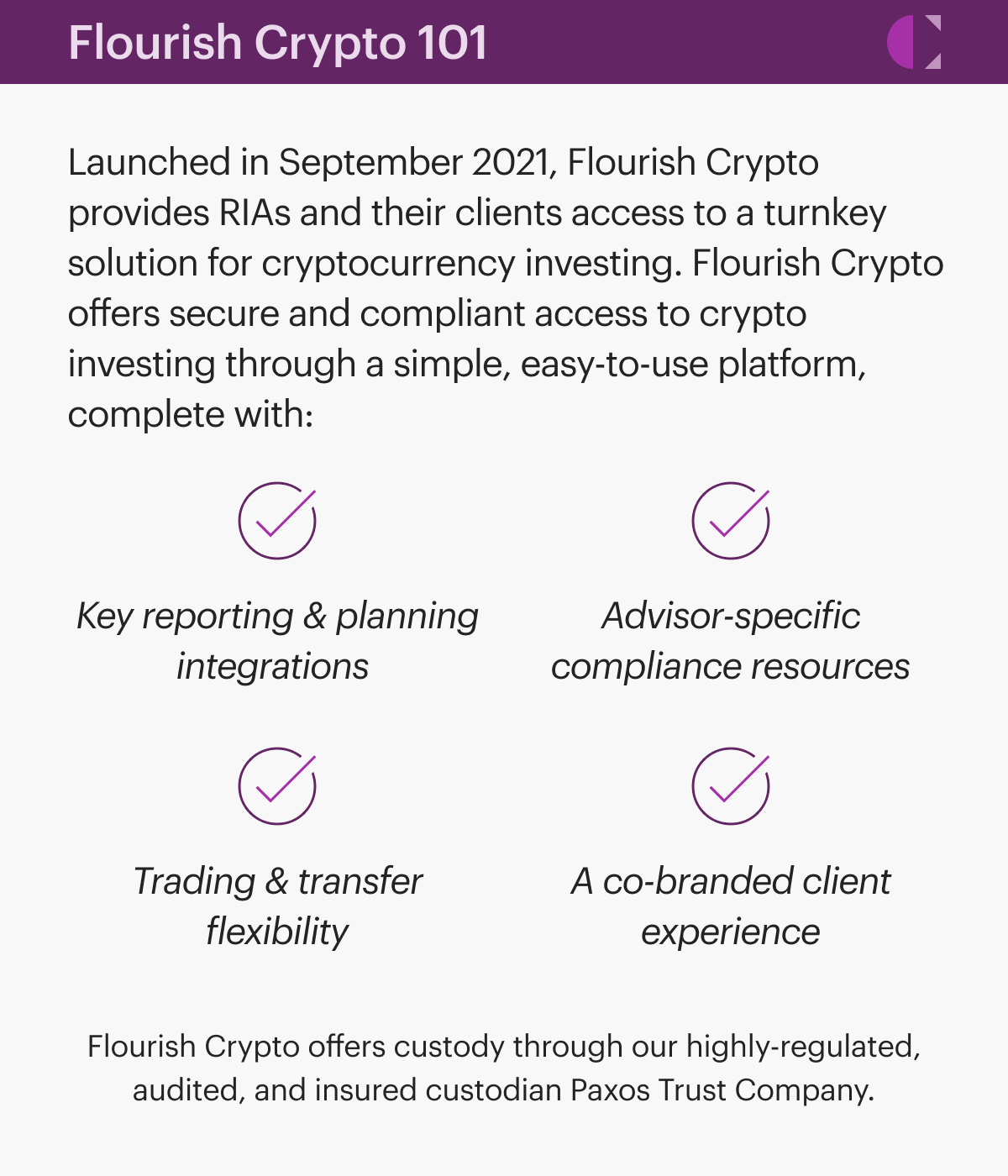 The benefits of dollar cost averaging
Recurring buys enables clients to use a dollar-cost averaging (DCA) strategy in their approach to digital assets, helping them hedge against market volatility and benefit from long-term price appreciation. The recent price rebounds in both bitcoin and ether after a challenging 2022 highlight the benefits of DCA in allowing investors to use volatility and time to their advantage. This approach is familiar to many investors as the strategy is traditionally implemented through workplace retirement plans like 401ks. With a 401k, employees have a fixed amount coming out of every paycheck that they are dollar-cost averaging into a portfolio, regardless of where the market is at that moment.
In addition to being a familiar strategy to investors, DCA in crypto offers a unique set of benefits. "Recurring buys helps remove some of the emotions around market timing or the latest news headlines to help investors stay the course," Flourish CEO Max Lane explained. "It's a way to experience the asset class and bring it into the portfolio in a safe, gradual manner. If you're interested in crypto, recurring buys can be an effective way to get started and slowly build a position over time." With a $100 trade minimum and a 0.25% transaction fee, recurring buys is an accessible way for RIAs and their clients to begin investing in crypto or to continue building their position within the purview of their advisor.
Empowering advisors through integration
Through the integration with Envestnet | Tamarac, RIAs are able to incorporate their client's Flourish Crypto data into their reporting, from performance to billing, ensuring that firms can manage digital assets within their existing workflows and processes.

Flourish Crypto data flows into Envestnet | Tamarac through a direct custodial integration, which allows RIAs to incorporate their client's crypto assets into their practice. This includes:
Viewing Flourish Crypto data in their data feed and client portfolios
Performance reporting on crypto
Billing and regulatory AUM calculations
Financial planning
"Data shows that many clients are already invested in crypto," said Lane. "Creating a holistic financial plan means also taking crypto assets into account to make sure that you're planning for the entire portfolio, not just the piece that you control, like stocks and bonds." While an estimated 25% of American households invest in digital assets, only 2% receive information on cryptocurrency from financial advisors. One survey found that 62% of clients would consider switching advisors in order to get advice about bitcoin, giving advisors who are knowledgeable about digital assets an advantage against competitors.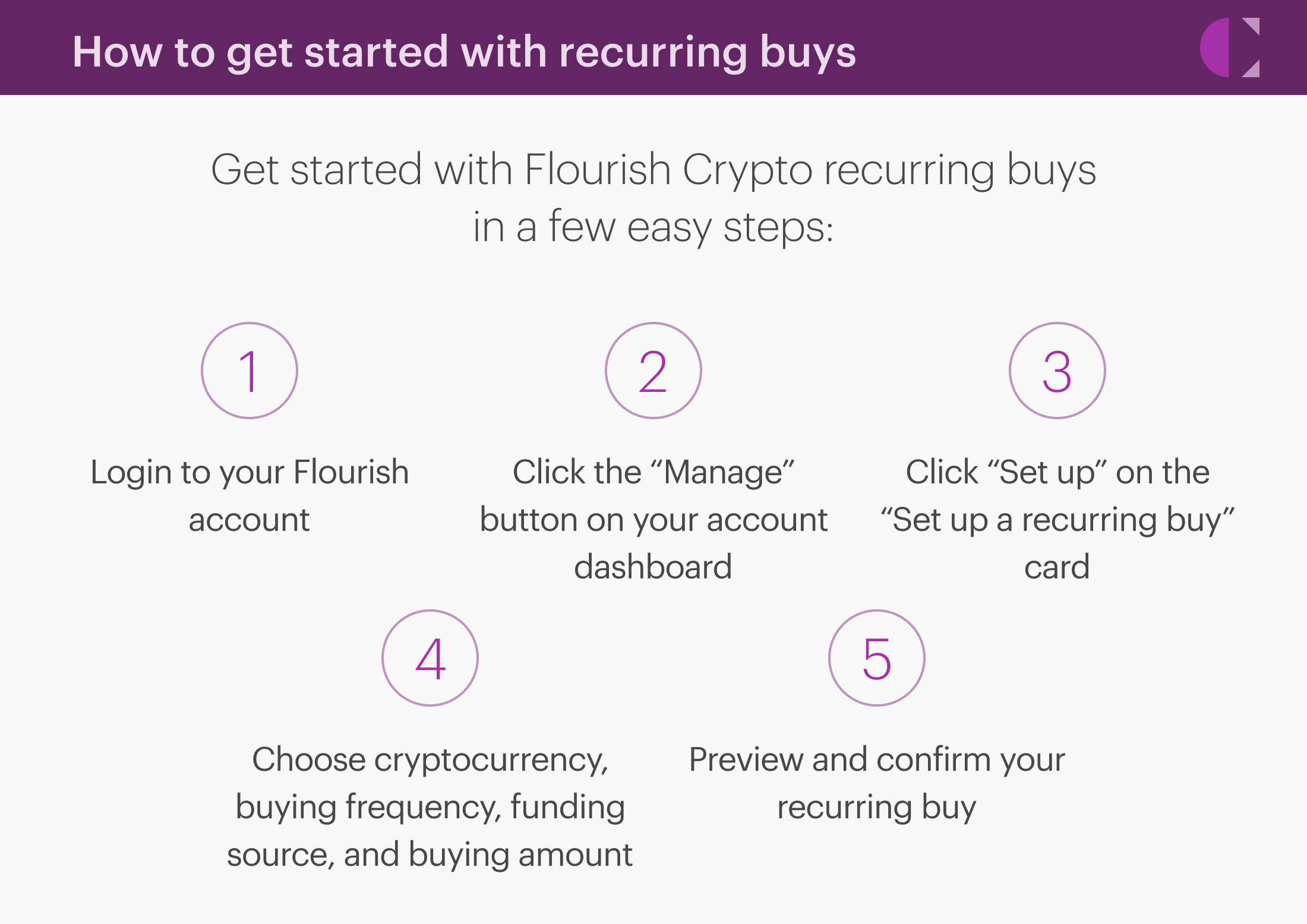 Users can choose from four different frequencies: weekly, bi-weekly, twice a month, or monthly. Users can select up to 1 of their personal Flourish Cash2 accounts as the additional funding source for the recurring buy. Once configured, Flourish will transfer funds from the selected Flourish Cash account into the Flourish Crypto account prior to the recurring buy execution date if the Flourish Crypto account does not have sufficient funds to cover the transaction.

The same trading limits apply for recurring buys, with a $100 minimum and $100,000 maximum, and each trade is subject to a 25 bps trade fee. At the time of creating a series, the end user will see a "Current est. price". That price is the market price at the moment and is for reference only. Flourish does not guarantee that price for any recurring buys. Recurring buys will always be executed at market price.
Crypto subject to 60 bps custody fee collected on a quarterly basis.
Learn more about crypto
For advisors, understanding how much their clients have invested in crypto and where it's held is a starting point for a conversation. In order to help RIAs gain confidence with crypto, Flourish has partnered with the Digital Assets Council of Financial Professionals, which has created a course specifically designed to help advisors quickly get up to speed on all things crypto. RIAs interested in the course can reach out to the Flourish Support team for an access code.

In addition, our whitepaper provides an analysis of bitcoin through the lens of traditional financial assets, including market risks, correlations, portfolio allocation frameworks, and more.
About Flourish
Flourish builds technology that empowers financial advisors, improves financial lives and retirement outcomes, and delivers new and innovative investment options to advisors. Today, the Flourish platform is used by more than 550 wealth management firms representing more than $1.5 trillion in assets under management. Flourish is wholly-owned by MassMutual. For more information, visit www.flourish.com.
Interested in learning more about Flourish Crypto?