Standing instructions: Creating a connection between
Flourish Cash
and brokerage accounts

June 15, 2023
Estimated reading time: 3 minutes
Advisors historically haven't had a solution to help address held-away cash: the cash reserves that clients typically hold in their checking or savings account. Flourish Cash aims to enable advisors to help their clients earn more on this cash while bringing it into their orbit. The results speak for themselves: advisors invited over 10,000 clients to Flourish Cash in the first five months of 2023 alone. There are now billions of dollars in the program and clients collectively earn millions in interest each month.
But what about when it comes time to bring held-away cash into the portfolio? Or when it's time to turn investments back into held-away cash?
That's where brokerage account linking comes in. Advisors can easily link Flourish Cash accounts to existing brokerage accounts, resulting in a better client experience and more efficient firm operations.
Read on to learn how your firm can set up standing instructions with clients, as well as a simple framework for how Flourish Cash can benefit both clients who are accumulating and those who are decumulating.
Making the connection
Advisors will be familiar with this process from accessing client bank accounts through forms like Schwab MoneyLink and Fidelity Standing Payment Instructions. When we launched Flourish Cash, advisors shared that, while establishing standing instructions was a necessity, it could be a major operational hassle to chase clients for a voided check or bank statement in order to set up standing instructions.
Based on advisor feedback, we launched external account and routing numbers in 2020. At that time, we added everything advisors needed to complete standing instructions paperwork to the Advisor Resource Center, including a letter that can be submitted directly to your custodian, almost completely eliminating the need to chase clients for paperwork.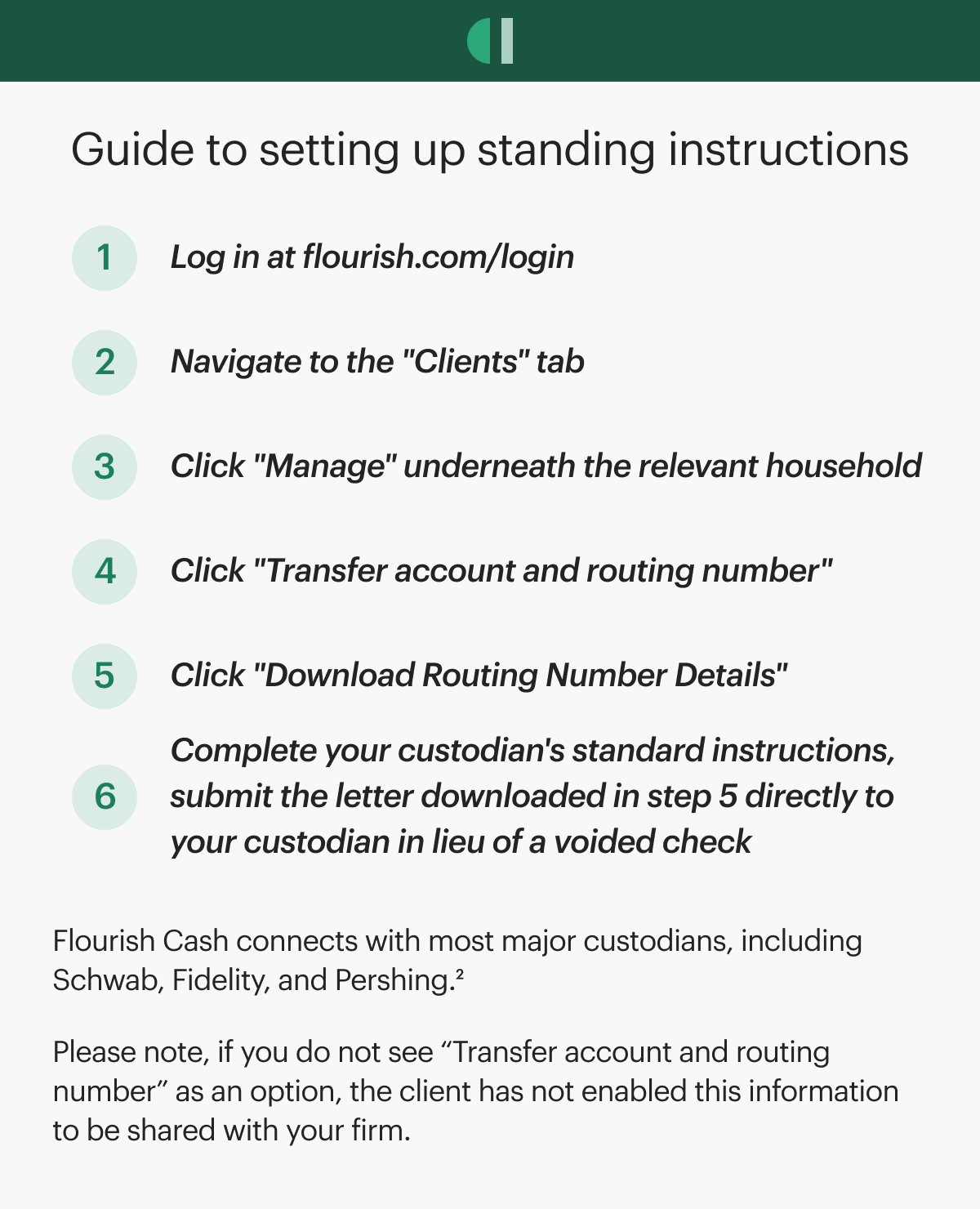 Serving the accumulating client
Setting up brokerage linking can be beneficial in the case of both accumulating and decumulating clients. For accumulating clients who are in the process of building their wealth, advisors can encourage these clients to build up funds within their Flourish Cash accounts, ensuring they're earning a competitive rate on their cash. Brokerage linking then allows advisors to efficiently pull additional funds from Flourish Cash into the portfolio on a regular basis. Advisors ensure that clients are earning a competitive rate on their cash until the moment it's transferred into the portfolio. This helps advisors support clients in reaching their financial goals faster, even before they begin managing the assets.
Flourish Cash gives advisors visibility into cash balances – whether through Flourish directly or through integrations with partners such as eMoney and Orion – and the ability to determine when additional funds can be moved into the portfolio. Standing instructions enable advisors to easily and efficiently facilitate the process of moving money over to the portfolio while increasing the level of service they provide for their clients.


Serving the decumulating client
Brokerage linking also helps advisors serve their decumulating clients who are in the process of putting their wealth to use. Advisors often sell out of a portion of the portfolio and send those funds to the bank accounts of decumulating clients to cover expenses. However, those advisors often aren't certain how much cash is actually needed if, for instance, funds from the last installment weren't entirely spent down.
Through Flourish Cash, visibility can help prevent unnecessary portfolio withdrawals and the loss of fee-earning assets, while allowing advisors to make adjustments as needed. Instead of transferring these funds to decumulating clients' bank accounts sight unseen, Flourish Cash offers advisors a more efficient way to send money from brokerage accounts to the hands of clients without losing visibility. In addition, clients earn a competitive interest rate on their cash until the moment it's required for expenses. Transfer automations, such as SmartBalance or recurring transfers, described below, can ensure that clients have the funds they need, when they need them.
Get started with brokerage linking
To set up brokerage linking, you'll use the same forms you use today, such as Schwab MoneyLink and Fidelity Standing Payment Instructions. Follow the detailed instructions above. You can also find all the information to fill out the paperwork in the Advisor Resource Center.
The best RIAs are always looking to improve client outcomes and drive operational efficiencies within their firms. We encourage advisors to talk to clients in quarterly meetings to ensure that accumulating clients are earning a competitive rate on their reserve cash before it's pulled into the portfolio, and that decumulating clients earn more before the cash is spent. All while Flourish Cash helps advisors monitor cash balances, increase profits, and add even more value to their clients.


Get to know:
Recurring transfers
Recurring transfers help clients automate their cash flow by automatically transferring funds between an external account and a Flourish Cash account. Clients can select the frequency, amount, and timing of the recurring transfer into or out of their Flourish Cash account. Recurring transfers can help accumulating clients strengthen their savings and can help decumulating clients automate their funds available for spending.
Get to know:
SmartBalance
SmartBalance3 helps clients maintain a target balance on an external account. Once every other week, money will automatically transfer into or out of Flourish Cash to maintain the target balance that the client set for their external account. When the external account balance exceeds the target, additional funds will be swept into the Flourish Cash account. When the external account balance is below the target, funds will be pulled from Flourish Cash.
About Flourish
Flourish builds technology that empowers financial advisors, improves financial lives and retirement outcomes, and delivers new and innovative investment options to advisors. Today, the Flourish platform is used by more than 550 wealth management firms representing more than $1.5 trillion in assets under management. Flourish is wholly-owned by MassMutual. For more information, visit www.flourish.com.
Interested in learning more about Flourish Cash?